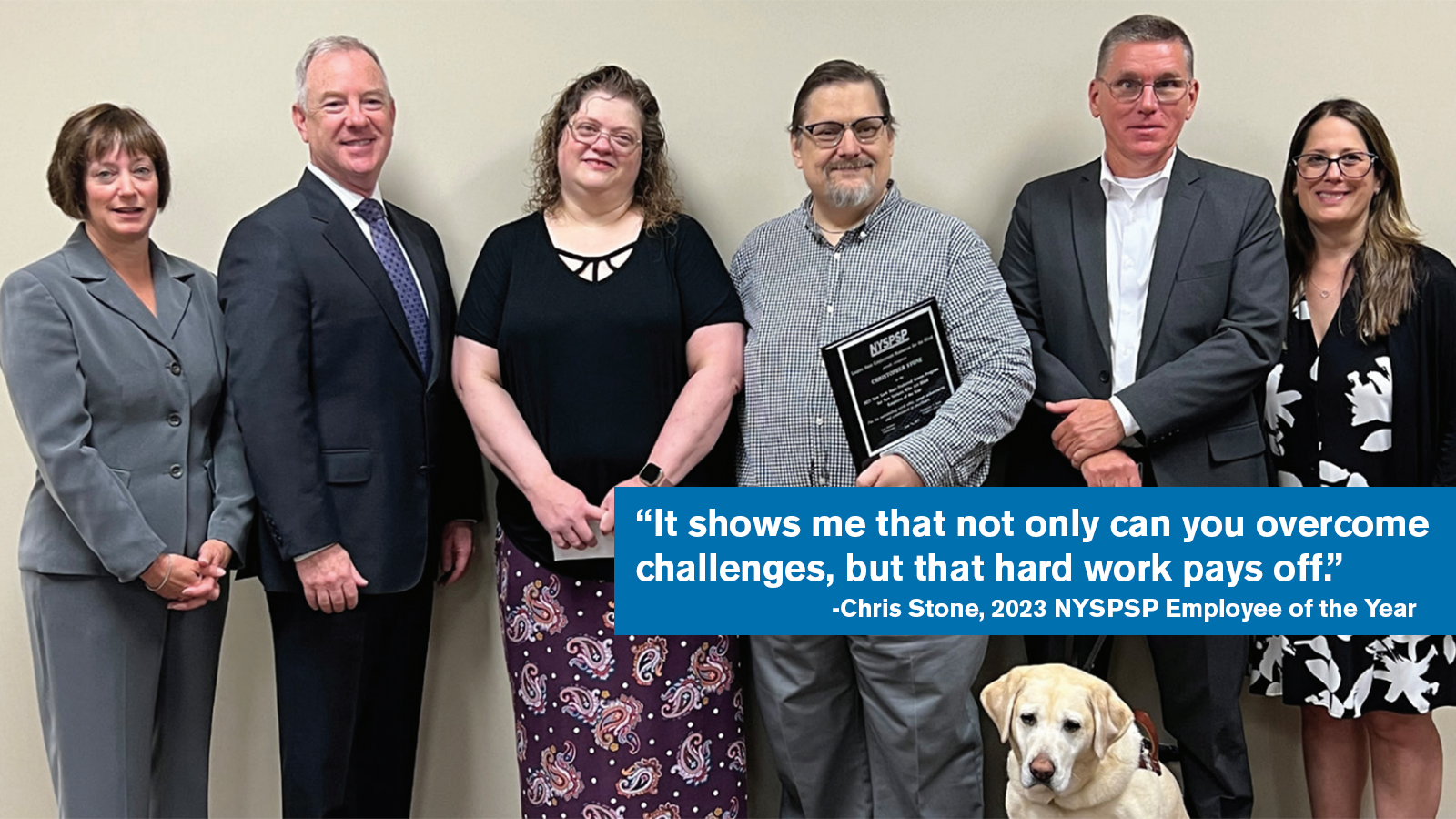 Pictured (left to right): Lisa Damiani, Chairperson, Empire State Employment Resources for the Blind Board of Directors; Chris Burke, NYSPSP Executive Director; Carrie Stone, wife of Christopher Stone; 2023 NYSPSP Employee of the Year Chris Stone; Ken Fernald, President and CEO of AVRE with guide dog Winnie; and Julie Hovey, Associate Commissioner, New York State Office of Children and Family Services.
Chris Stone, a production services clerk at AVRE, was recently awarded the 2023 NYSPSP Employee of the Year award. He has been with our organization for over 8 years. In his current position, he plays an important role in multiple product lines. He has also been actively involved in helping to improve the workplace for other low vision coworkers.
When asked about his visual impairment, Chris said he first noticed issues with his vision in 10th grade after being tackled in football, but didn't get diagnosed until 2000. This is not the only challenge he has faced, as in February 2020 he was diagnosed with cancer and later also dealt with COVID-19. While he acknowledges these challenges, they have not stopped Chris. He credits his wife as being amazing and supportive with helping him live his life to the fullest.
When asked specifically about this award and his time at AVRE, Chris stated "It shows me that not only can you overcome challenges, but that hard work pays off." You can read more about Chris' award in the Fall 2023 edition of NIB's Opportunity Magazine. Congratulations Chris!