Nine at Night 2020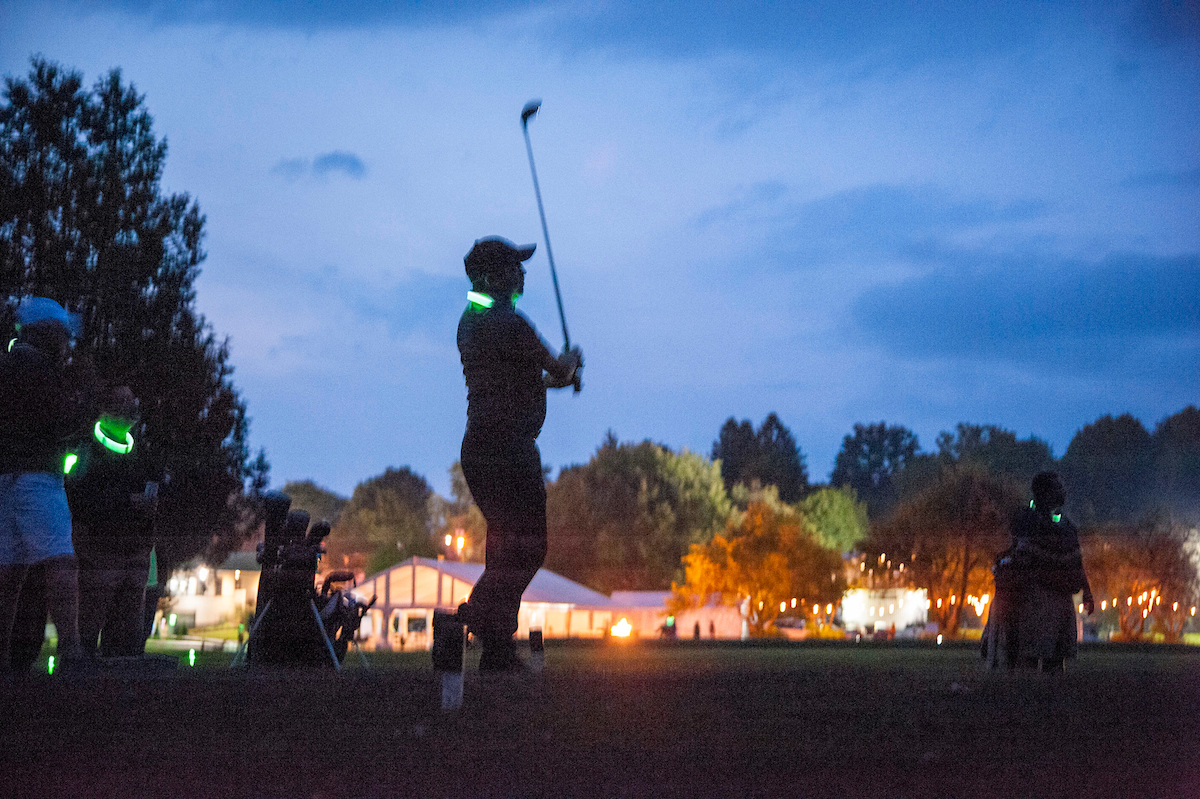 We had a great time hosting our 6th Nine at Night golf tournament at Chenango Commons golf course. Fortunately the rain held and we had perfect golfing weather! This year we increased the glow on the course as volunteers and golfers enjoyed a great night of glow in the dark golf.
A special congratulations to the top three finishing teams: Davidson Fox & Company, Empower Federal Credit Union, and Harding Brooks Insurance Agency!
Manufacturing Face Shields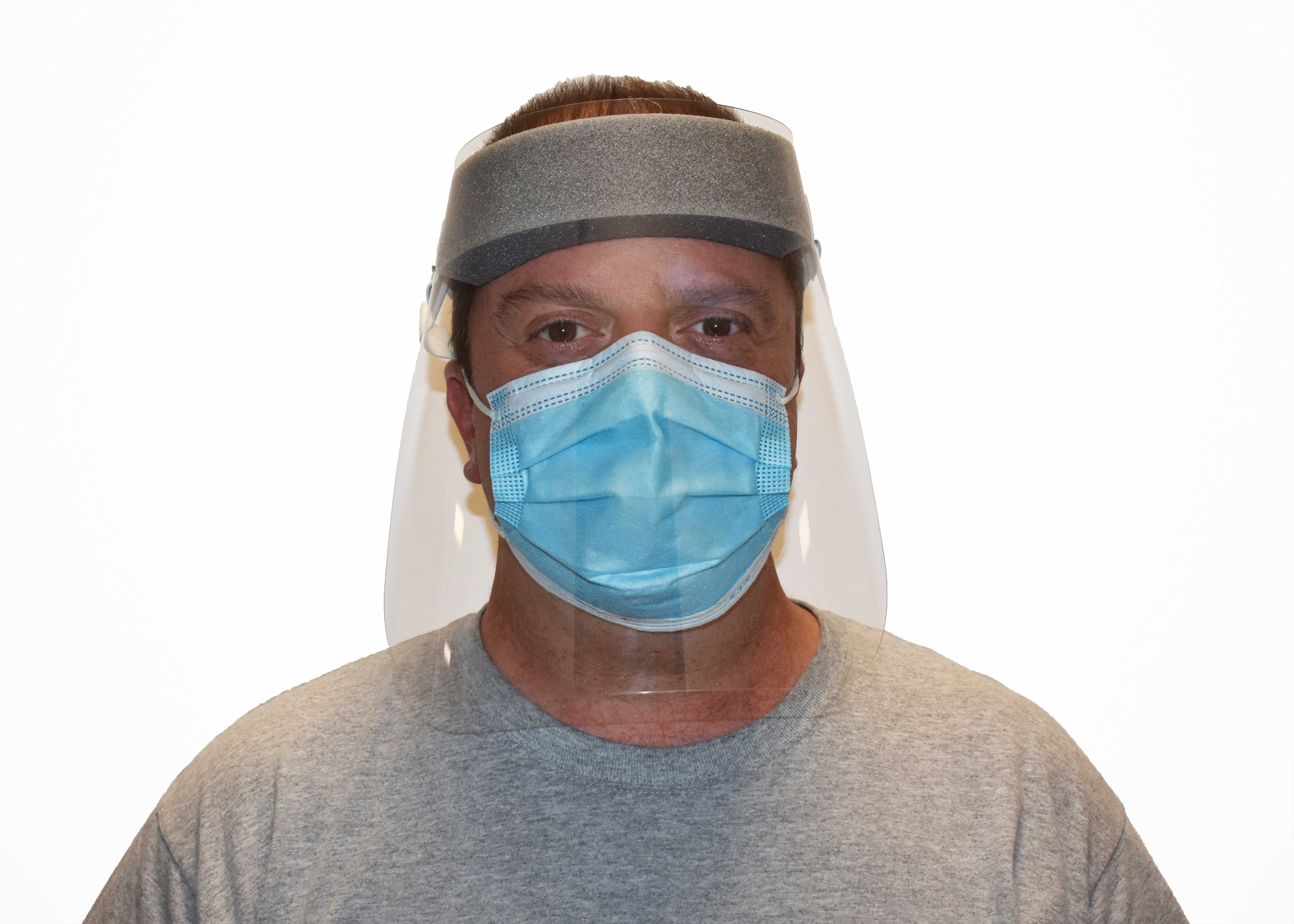 In response to the Covid-19 outbreak, AVRE partnered with local plastics manufacturer, Eck Plastic Arts, Inc., to manufacture and assemble polycarbonate face shields for sale and distribution to area hospitals and health care providers. The face shields are reusable and made of high-quality polycarbonate. The adjustable elastic band and foam strip allow for customizable comfort. We are proud to contribute personal protective equipment to members of our community!
ISO 9001:2015 Certification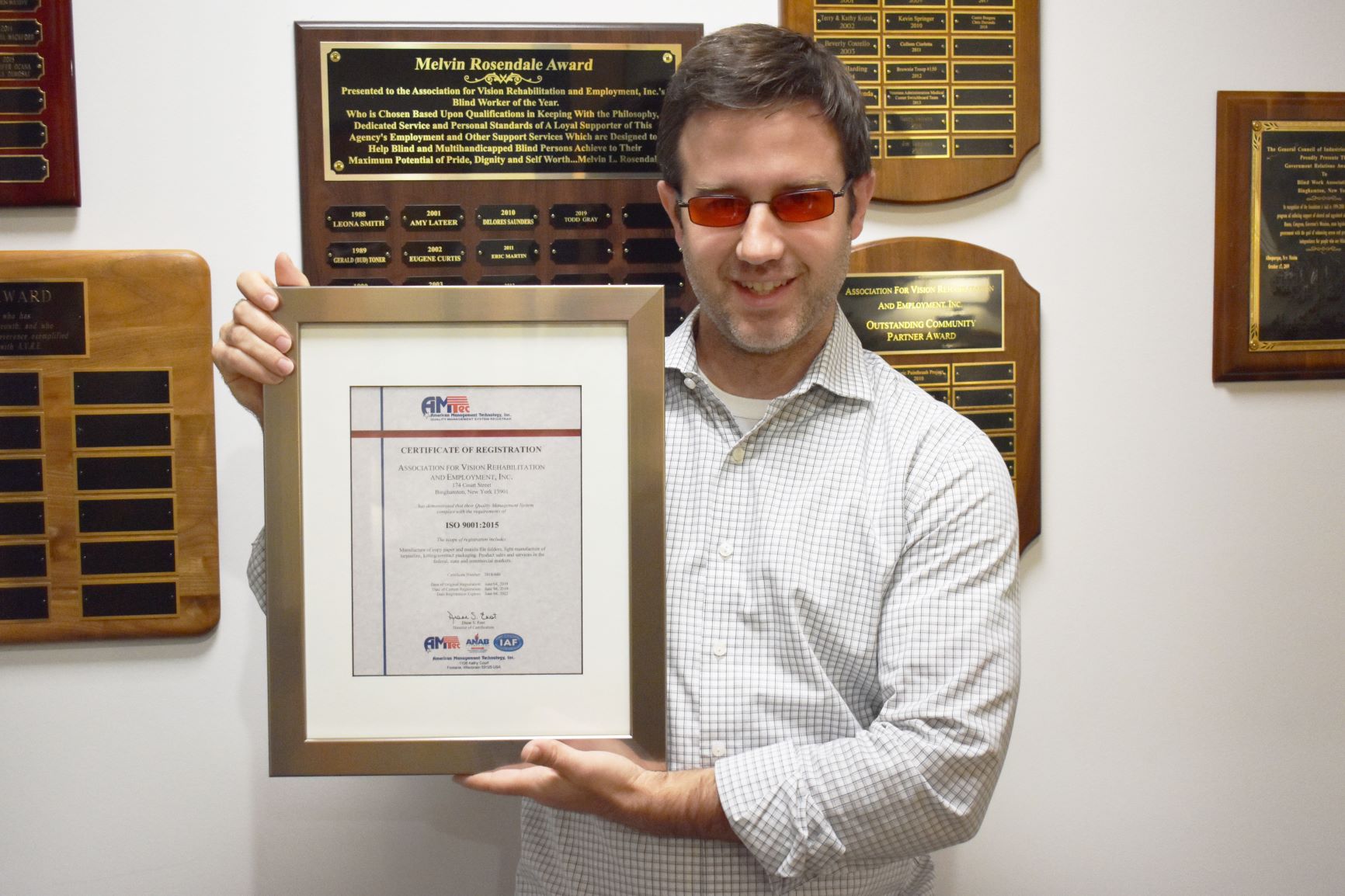 After 15 months of planning and implementation, AVRE earned the ISO 9001:2015 certification. ISO 9001 is the international standard that specifies requirements for a quality management system (QMS). Based on a number of quality management principles, the standard focuses on strong customer satisfaction, the motivation and implication of top management, the process approach, and continual process improvement. AVRE's Process Improvement Manager, John Ellzey, worked with AM&T consultant, Bob Mann, to document current processes and create a system to monitor production accountability and quality assurance.
Congratulations, John, and thanks for your commitment to getting AVRE ISO 9001:2015 certified!
NIB/NAEPB Training Conference and Expo 2019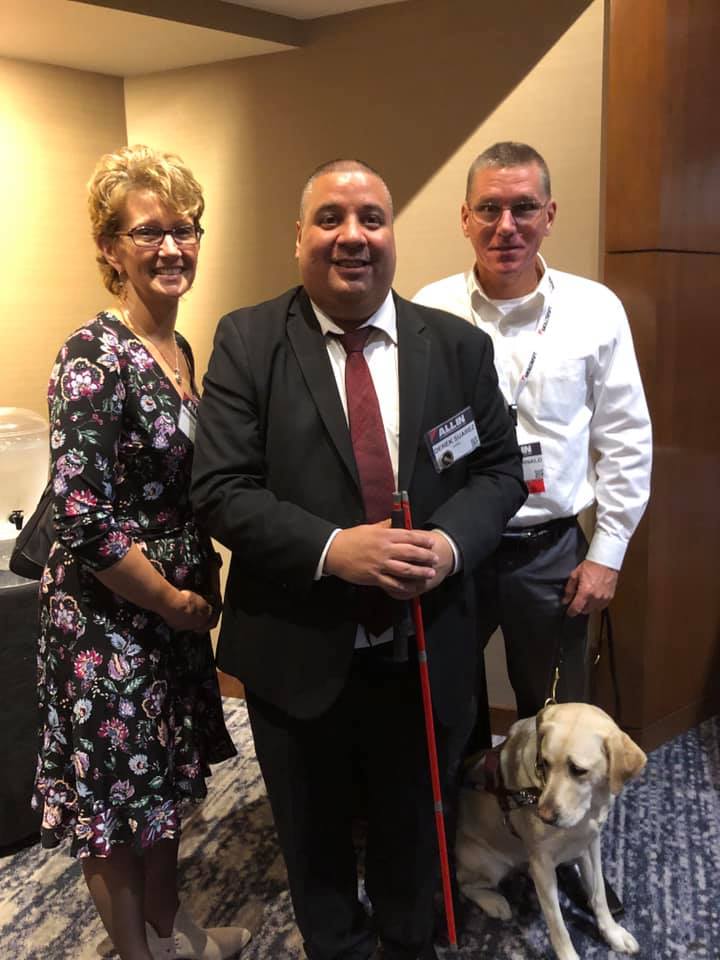 Bronx Switchboard Supervisor Derek Suarez was a guest speaker at the 2019 NIB/NAEPB Training Conference and Expo in Arlington, Virginia on October 14-17, 2019. This conference highlights business development and training on the AbilityOne Program. AVRE was honored to have Derek chosen to present at the general session and share his personal experience with the program and the opportunities it has created. Thank you to NIB for showcasing Derek's story and for another inspiring conference!
Congratulations Derek!
Photo description: Jenn Small, Derek Suarez, Ken Fernald, and Winnie smiling.
2nd Annual Dining in the Dark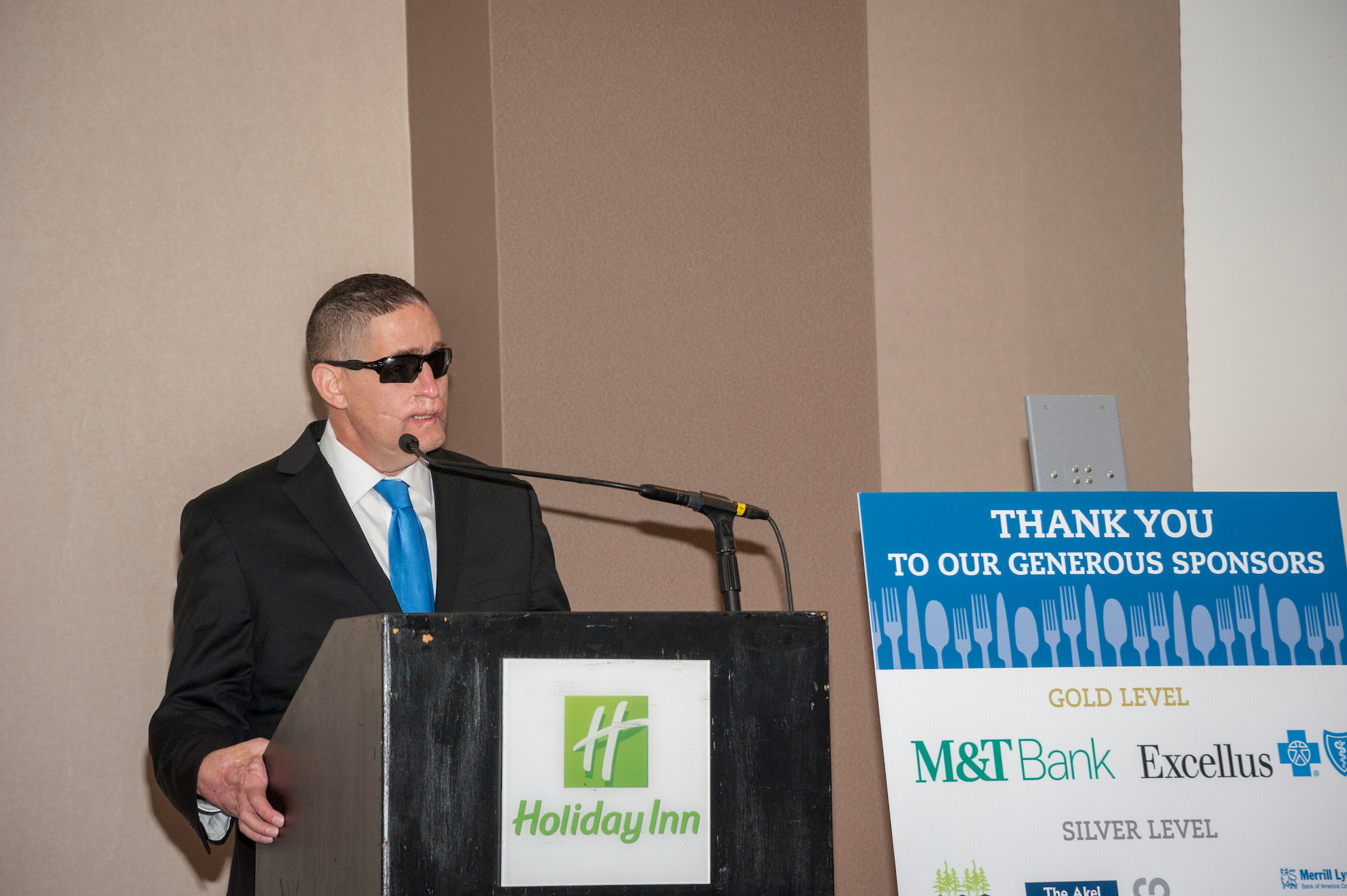 Friends and colleagues gathered at the Holiday Inn Binghamton on May 9th to celebrate our 2nd Annual Dining in the Dark fundraiser. The night began with hors d'oeuvres, a silent auction, raffle, wine wall, and live music from the Scott Freeman Band trio. After introductions from our Foundation and Association Chairs, guests enjoyed a three course meal under blindfold with assistance from our vision rehabilitation staff. The night concluded with guest speaker Army veteran Jeff Mittman sharing his unique story of overcoming a sudden loss of vision while deployed overseas.
The fundraiser truly was a success and would not have been possible without the support of our sponsors, guests, committee, and staff. Click here to see more photos from our event!
NIB/NAEPB National Symposium 2019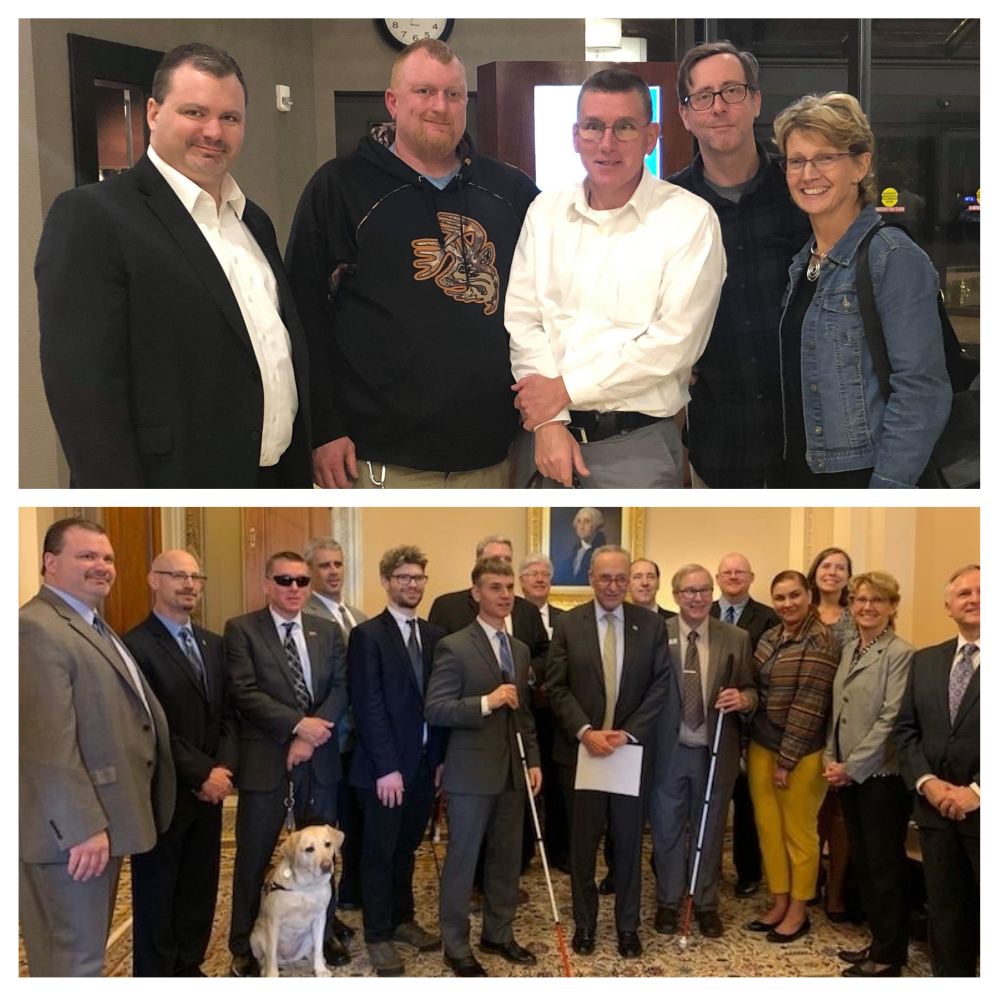 National Industries for the Blind (NIB) and National Association for the Employment of People Who are Blind (NAEPB) held their 2019 National Symposium on May 28th through May 30th in Alexandria, VA. Ken Fernald, Jenn Small, and AVRE Association Board Chair Steve Wayman advocated for the AbilityOne program by meeting with members of Congress on Capital Hill. AVRE's Todd Gray and Troy Wackford joined Employee of the Year nominees and were recognized at the symposium for their award nominations.
We are honored to celebrate the achievements of our award recipients and proud to work toward creating more job opportunities for Americans who are blind!
Ranked #4 in the Country as the "Best Nonprofit to Work For"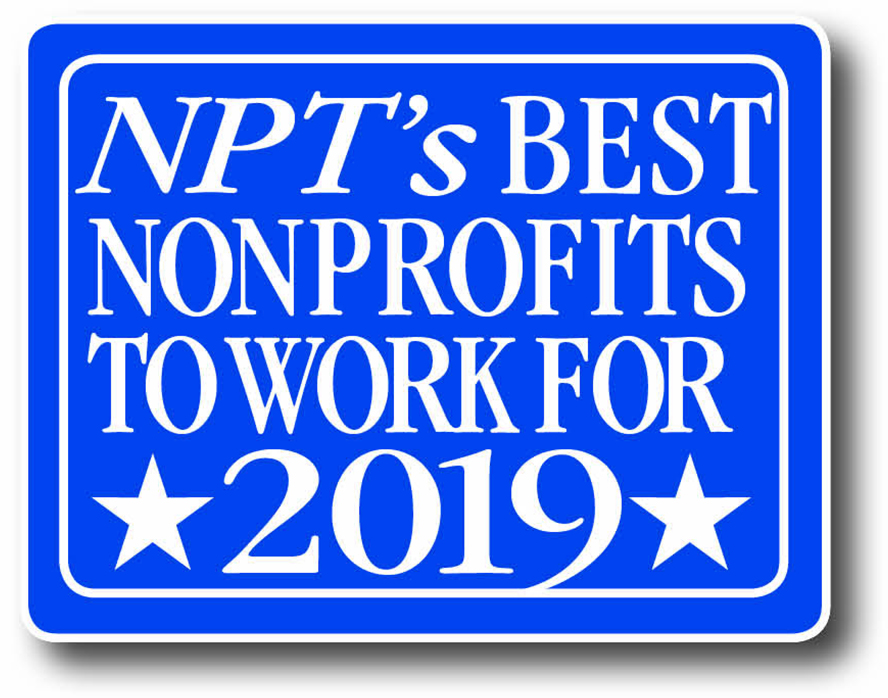 For the second consecutive year, AVRE has placed in the Top 50 'Best Nonprofits to Work For' in the nation by the NonProfit Times. We are thrilled to announce that AVRE ranked #4 in the Country in 2019. Additionally, we placed #3 for medium sized companies nationwide and #2 in New York State.
Thank you to all of our wonderful employees for participating in the survey and making AVRE a great place to work!
For more information, click here.
Employee Awards and Recognition Banquet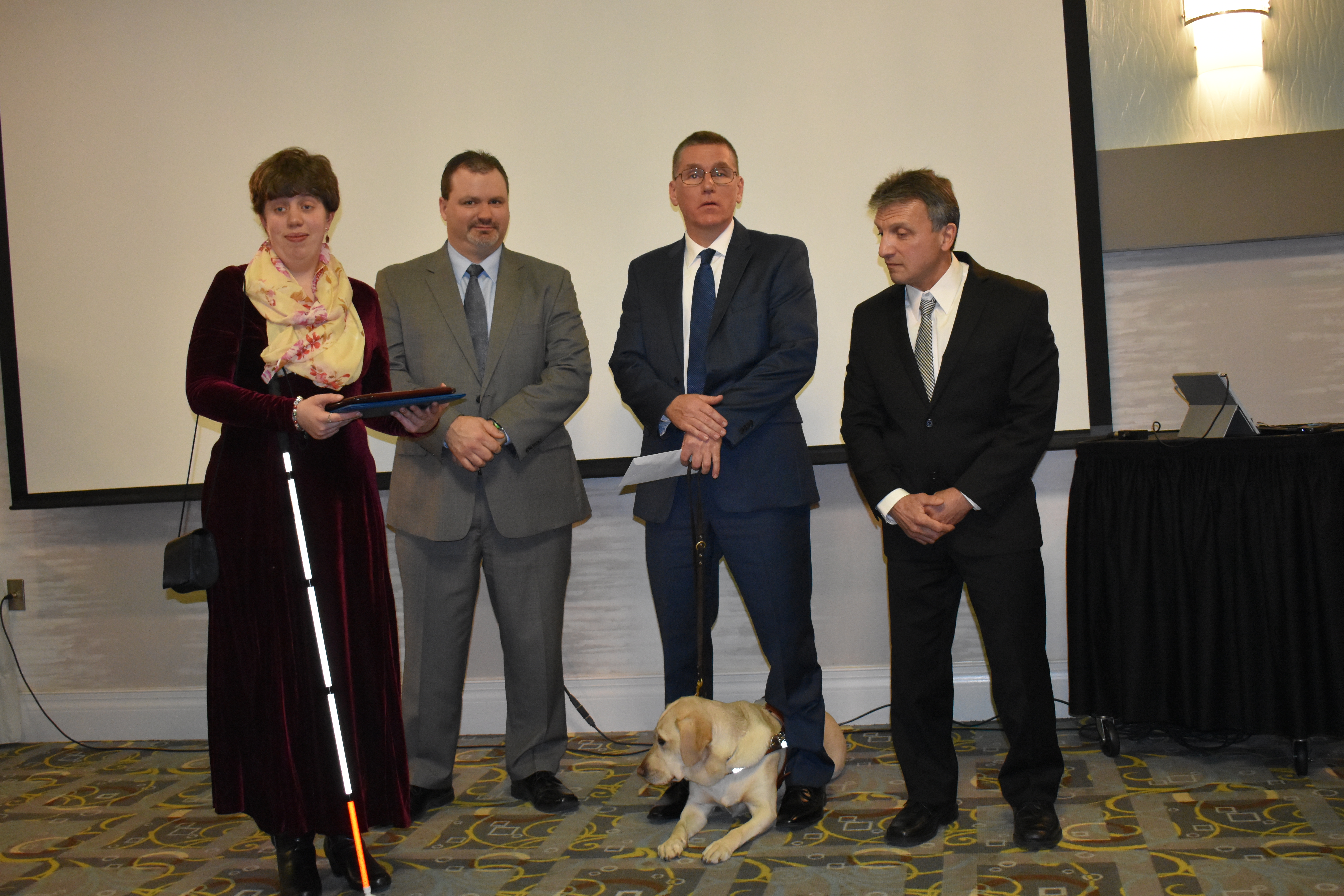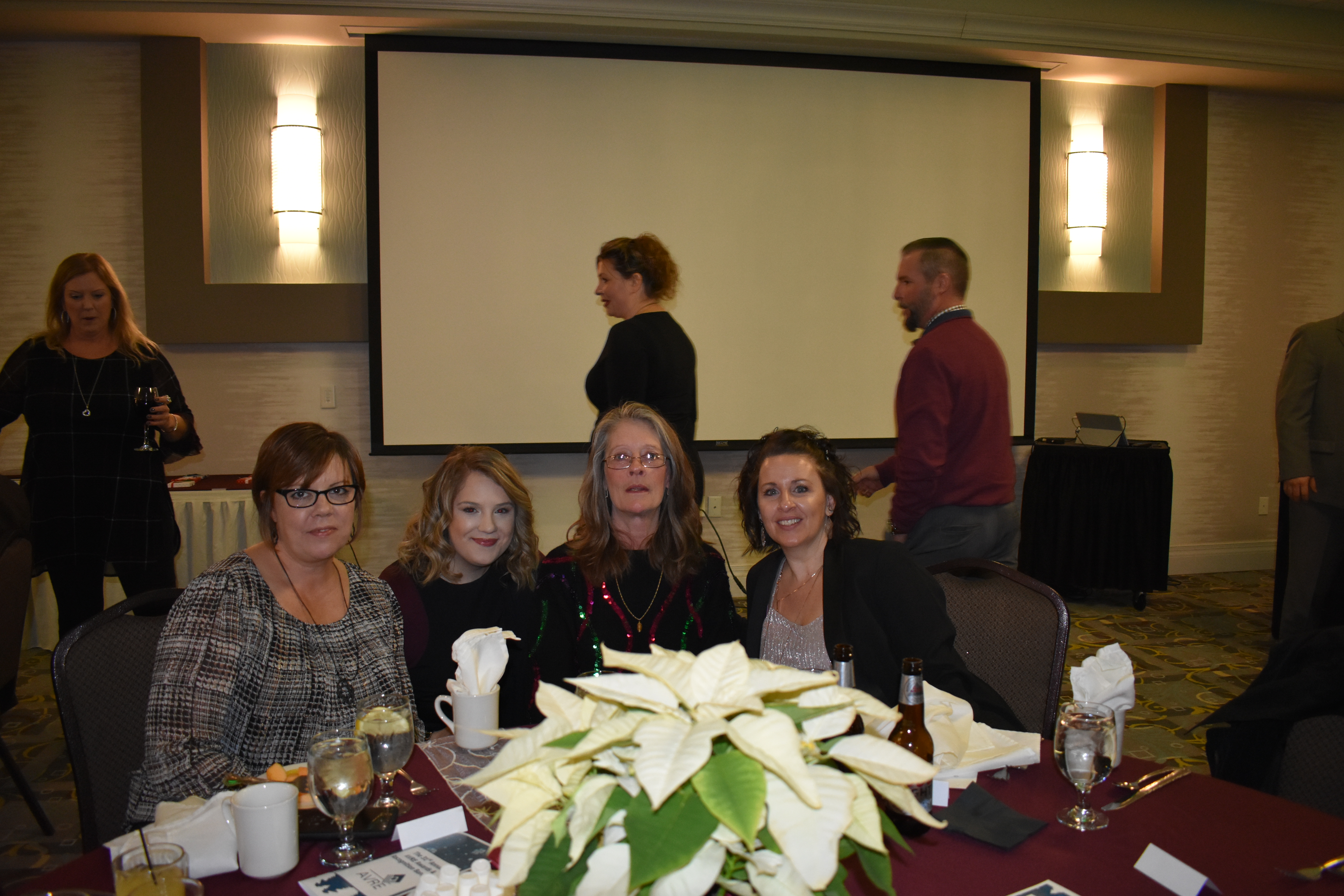 AVRE celebrated its 31st Employee Awards and Recognition Banquet on Saturday, December 8, 2018. Out holiday banquet allows us the opportunity to recognize new employees, years of service, and outstanding employee achievements. This year, we were honored to present the Community Partner Award to the Binghamton Lions Club, a longtime supporter of AVRE. Sarah Buckner was honored as AVRE's 2018 Melvin Rosendale Employee of the Year and Troy Wackford was recognized with the Mel Rhinebeck Career Achievement Award. As we approach the holidays, we would like to wish all of our employees, board members, business partners, and contributors a very happy new year! Thank you all for your continued support and hard work!
2016 Nine at Night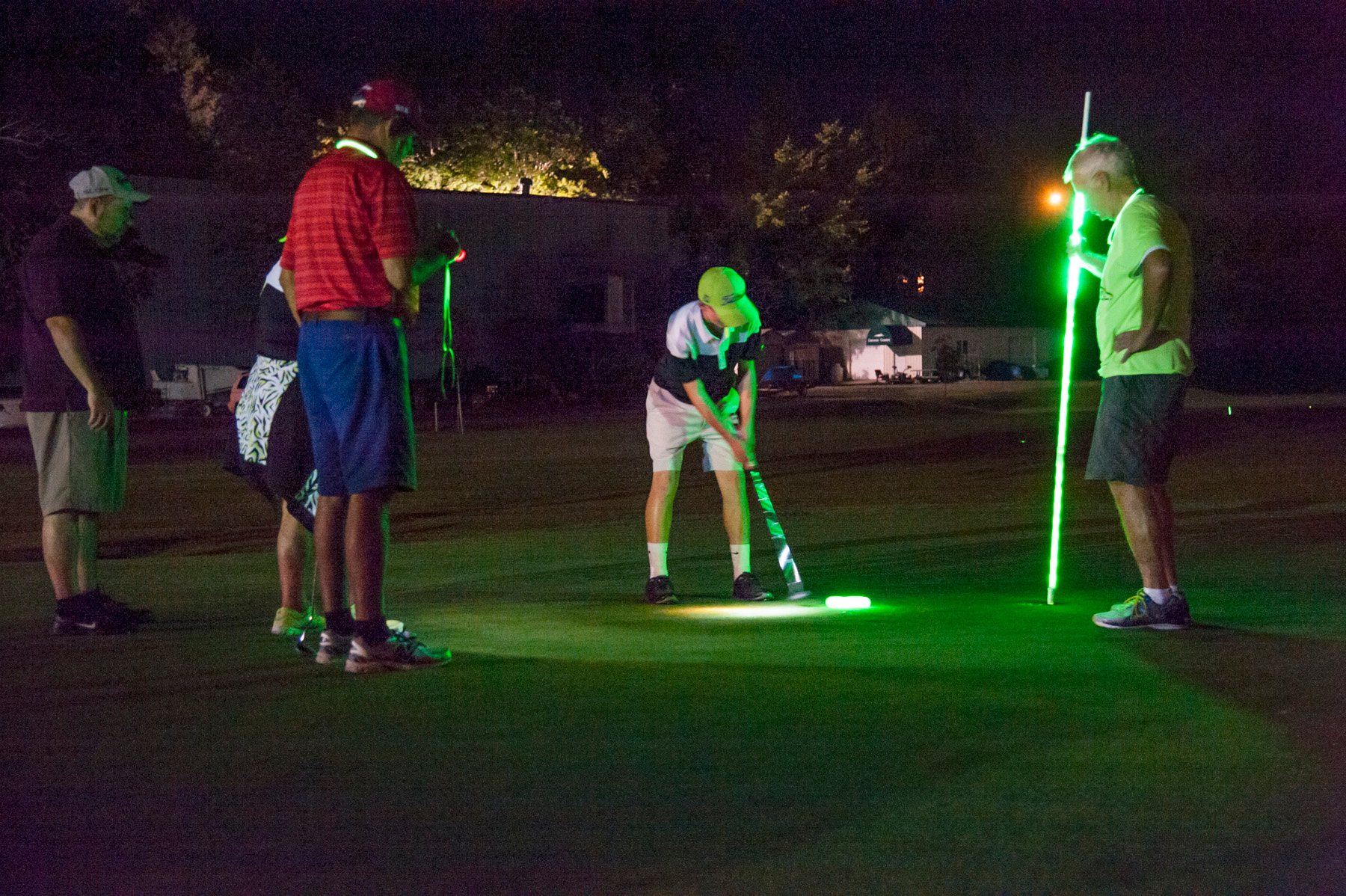 AVRE hosted its third annual Nine at Night golf tournament on September 9, 2016. With glow sticks and glow-in-the-dark golf balls in hand, over 50 players took the course at Chenango Commons golf course for a fun game of glow golf. With the help of over 20 sponsors and volunteers, we had a successful and enjoyable event! We look forward to continuing to raise awareness about our agency and how we can continue to work with individuals who are blind and visually impaired to gain their independence!
2016 Bridge Run
Team AVRE came together for 2016 Greater Binghamton Bridge Run on May 1st to celebrate health, wellness and camaraderie. Employees, their families, and local college students fought the rain as they represented the agency in the 5K event. In addition to the runners, several other AVRE staff members stood by to cheer and show their support along the course. Despite the rainy weather, it was a fun time for everyone involved!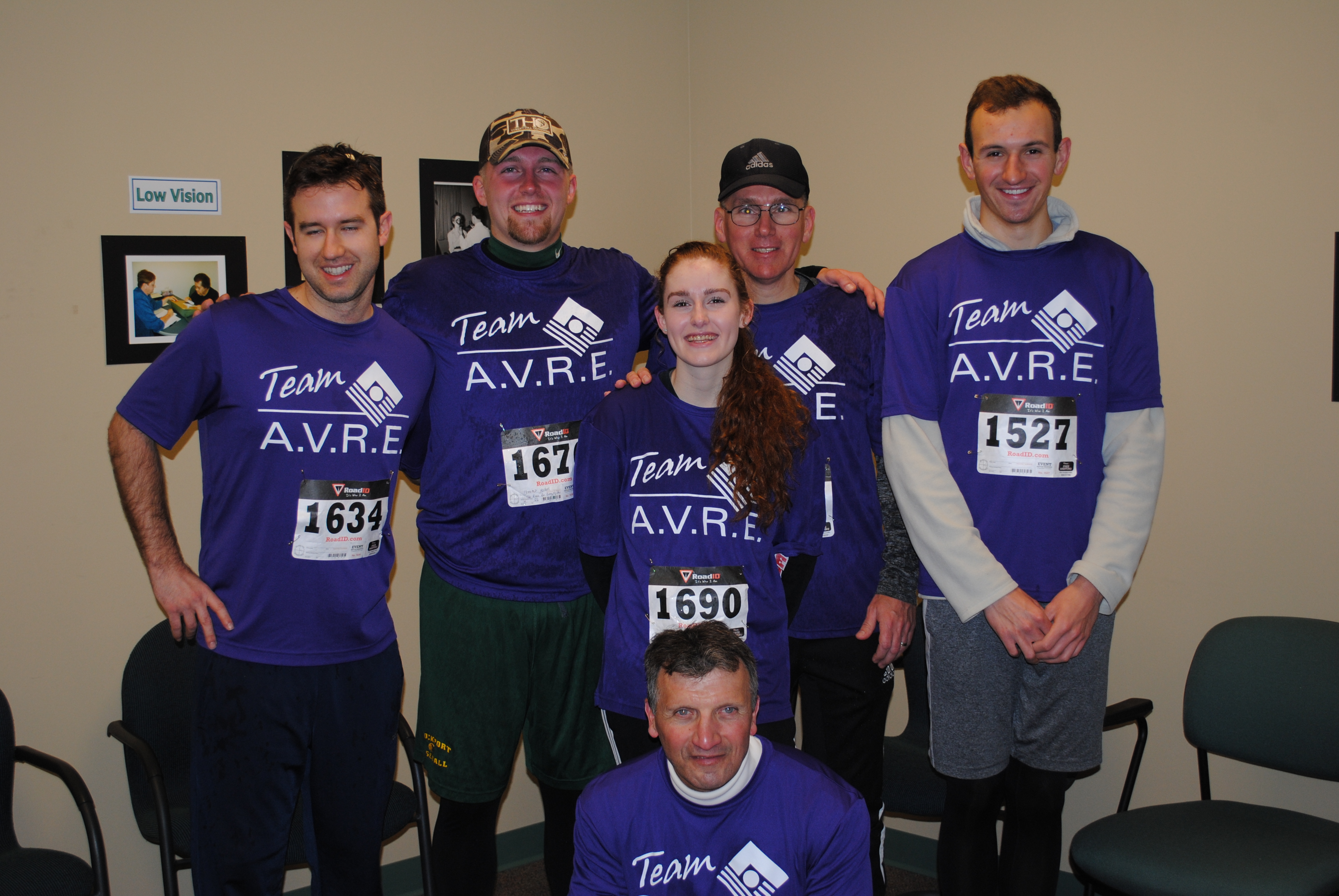 Giving Back to the Community
AVRE and its employees have a strong tradition of giving back to the community. Each Christmas, AVRE employees purchase gifts for children who would otherwise go without. Most years we sponsor 25 – 30 kids. After the 2011 flood, we gathered and distributed to area relief centers items that were donated from sister agencies around the country. In the past, we have donated items left over from kitting projects to area non-profits, such as the Melissa and Doug toys we gave to Mom's House in Johnson City. An ongoing kitting project at AVRE involves a partnership with the Newell Rubbermaid/Goody Corporation.
Recently, a group of employees sorted through hundreds of discontinued Goody hair care products and packaged them for distribution in the community. Mom's House, the YWCA, Danielle House, Volunteers of America, and numerous church clothing centers and food banks received boxes of brushes, hair ties, and barrettes to share with families in need. Of course, all of this was made possible through the generosity of our business partners. We're proud to do business with these companies and proud of our employees who help to make things happen in our community.
eSight Visit
We were very fortunate to have two members of eSight visit with us this week. After sitting down and educating us about their eye-wear technology, several of our visually impaired employees had the opportunity to try out the glasses at their work stations. With the use of a high-definition camera and LED screens, the eye-wear helped one of our legally blind manufacturing workers achieve 20/20 vision ten feet away. Thank you again to Alex and David for making the trip to Binghamton and introducing us to this wonderful technology!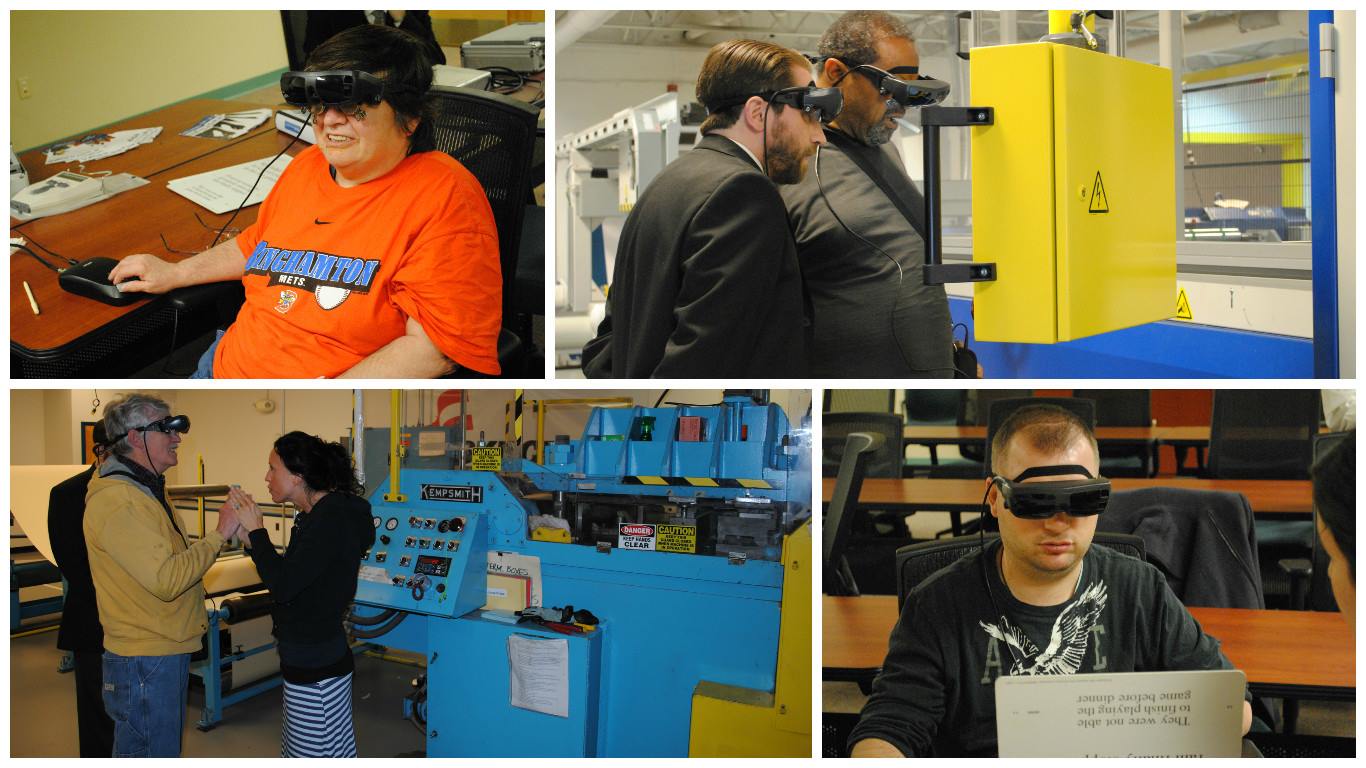 Digicut Sheeter Ribbon Cutting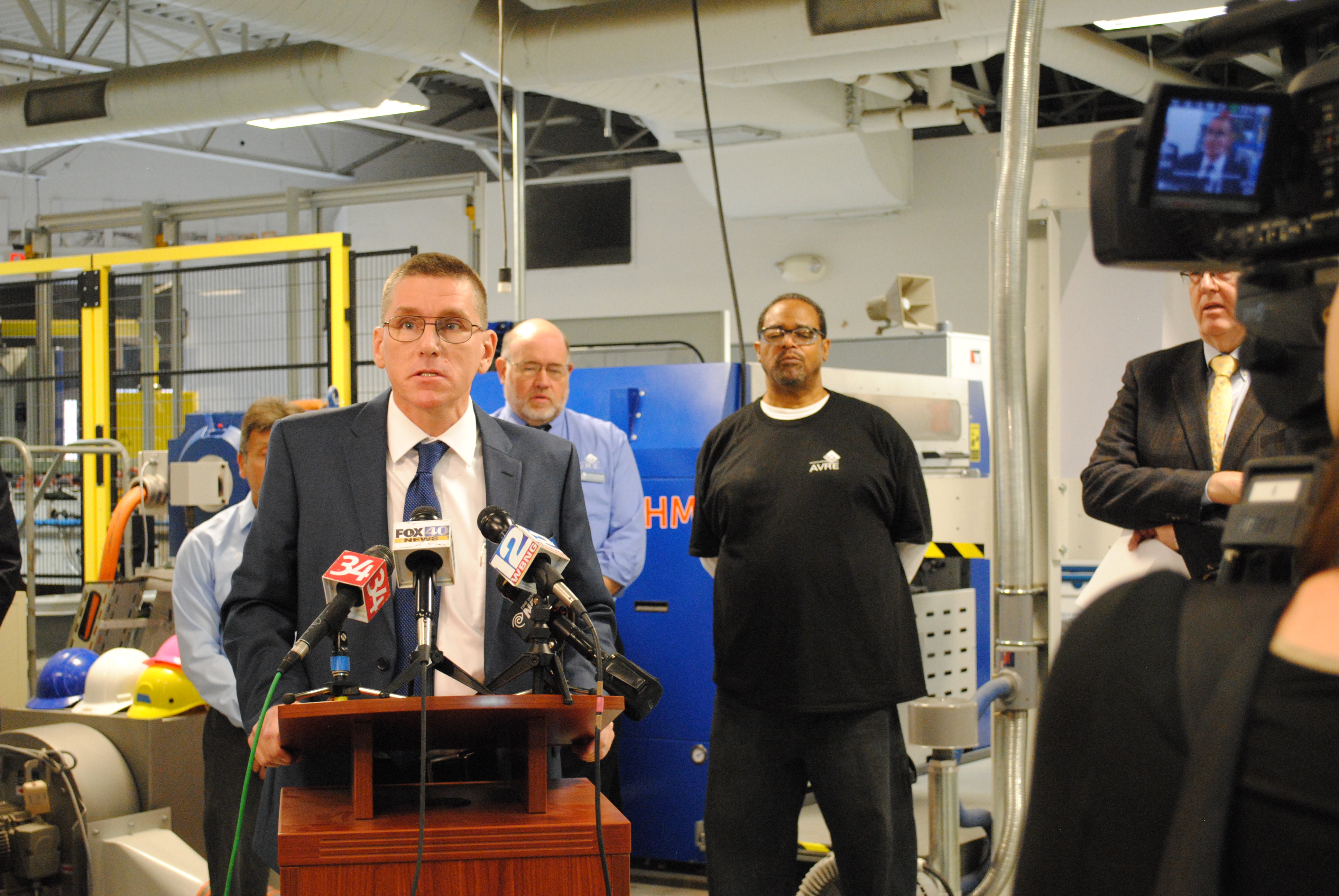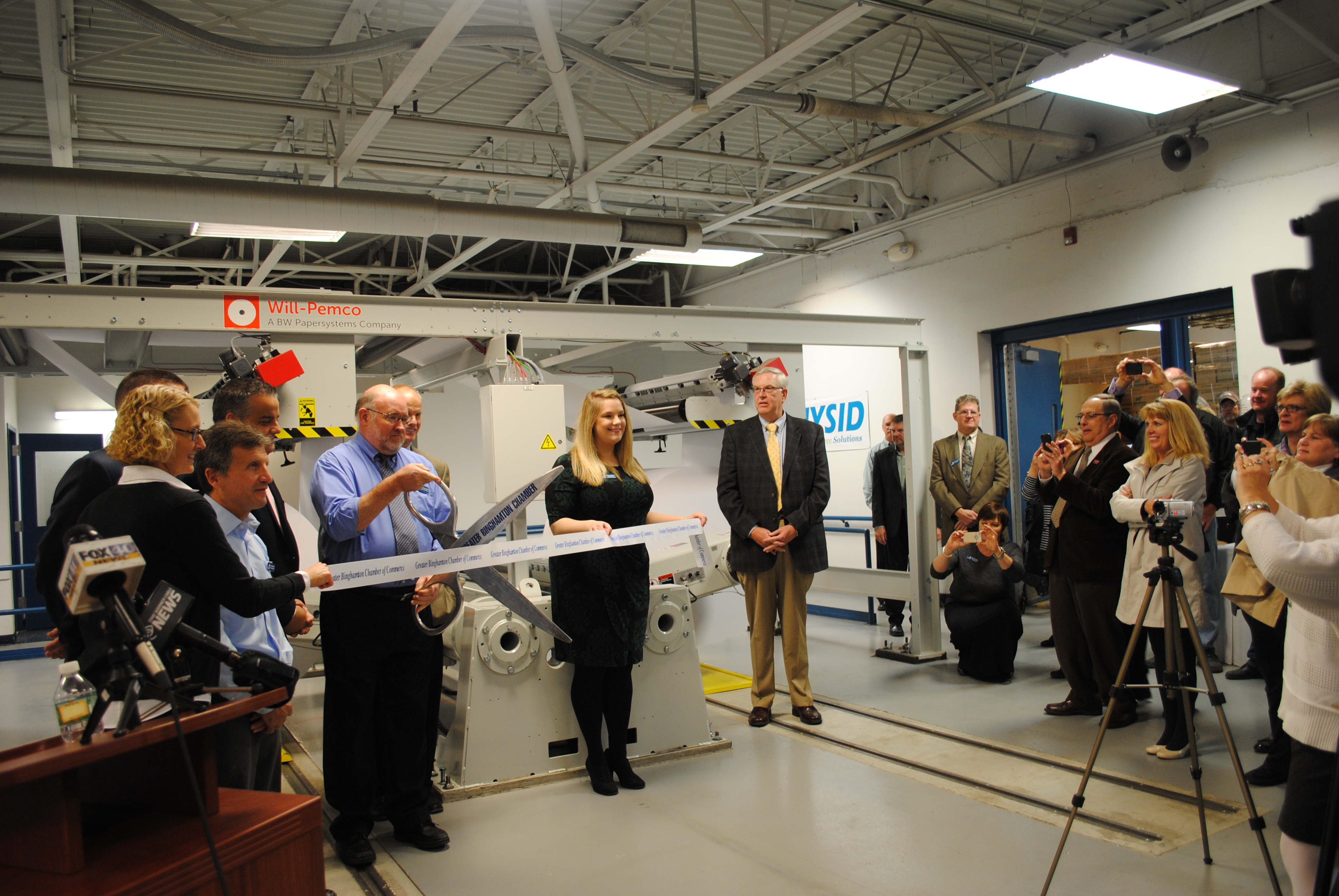 AVRE celebrated the official ribbon cutting of our new $1.4 million digicut paper sheeter Wednesday, November 18th. Local officials, businesses and supporters attended the event which included a presentation from CEO/President Kenny Fernald and AVRE Board of Executive Chair John Martin in our newly renovated manufacturing facility. Other speakers included Mayor Rich David and Binghamton University President Harvey Stenger. Production Manager Luigi DiRusso and Machine Operator Mark Foster also shared a few words about how the new machine has impacted them both professionally and personally. Following the press conference, we had the opportunity for those in attendance to observe the machine in full operation. We, again, would like to thank the local foundations for supporting AVRE and helping us make everything possible. We are very excited about the completion of this project and look forward to what lies ahead!
2015 Bridge Run
AVRE staff and family members congregated on the sidewalks in front of our facility in Downtown Binghamton to join in on the Bridge Run festivities on May 3rd. We also had a little help from Rich Birdsall from 98.1 The Hawk and Positive Life Force. We offered free coffee and hot chocolate to spectators, as well as some sign-making supplies so kids could cheer on their favorite runners! AVRE was also represented in the race as President/CEO Ken Fernald and Assistive Technology Instructor John Ellzey ran in the half marathon and Production Supervisor, Luigi DiRusso took on the 5k. All three demonstrate how active you can be, despite vision loss. We generated a lot of energy on Court Street and hopefully raised some awareness about what AVRE does in our community!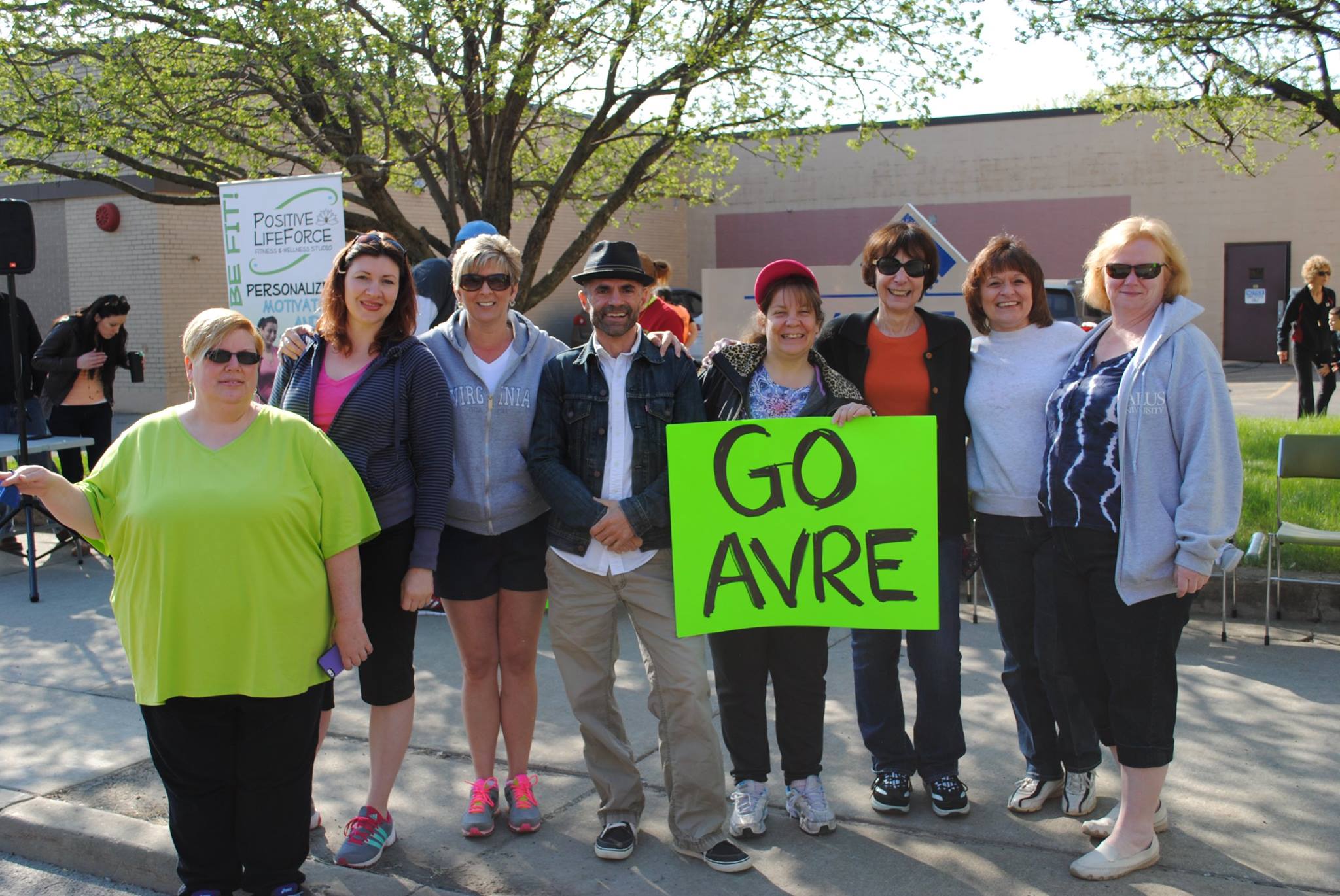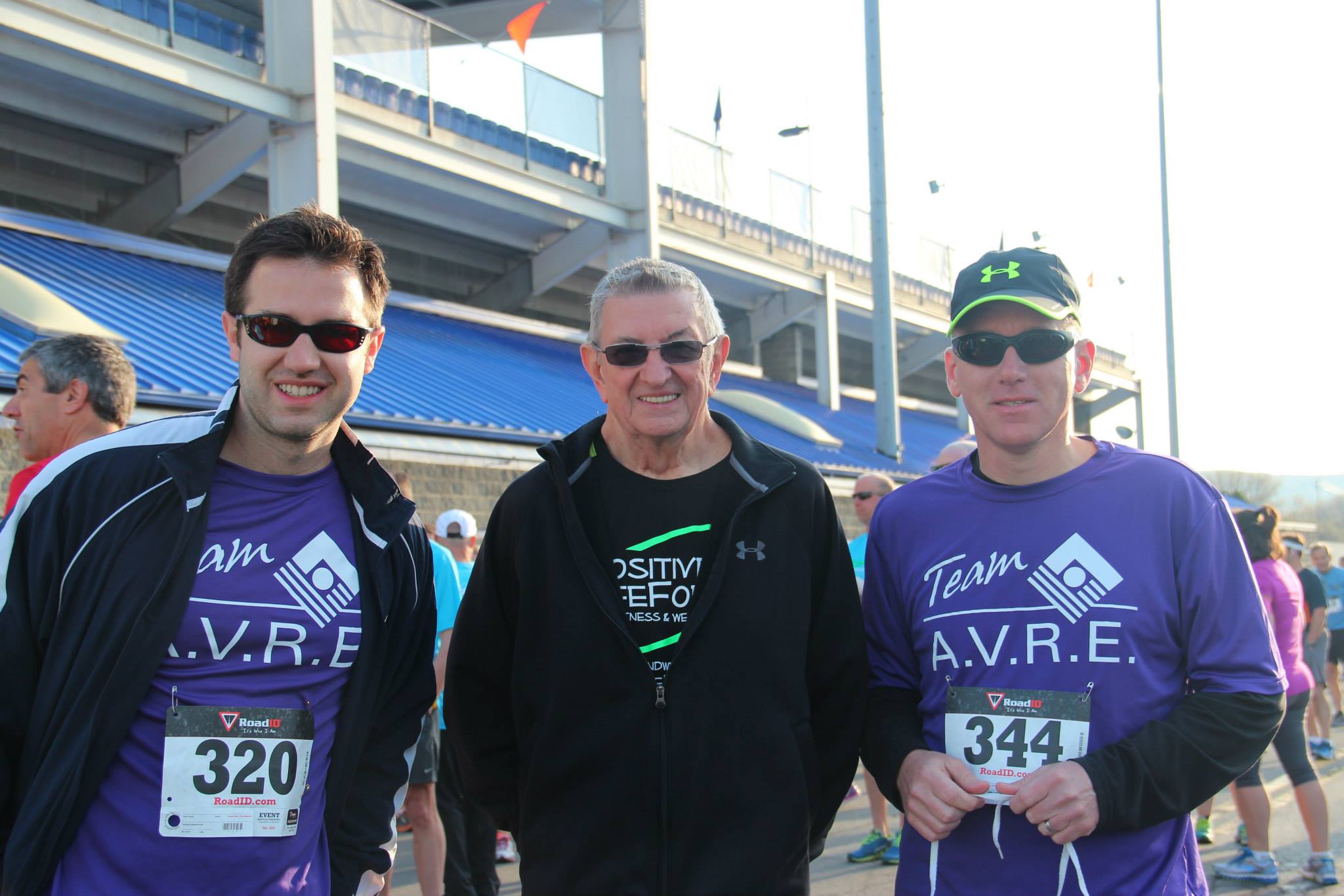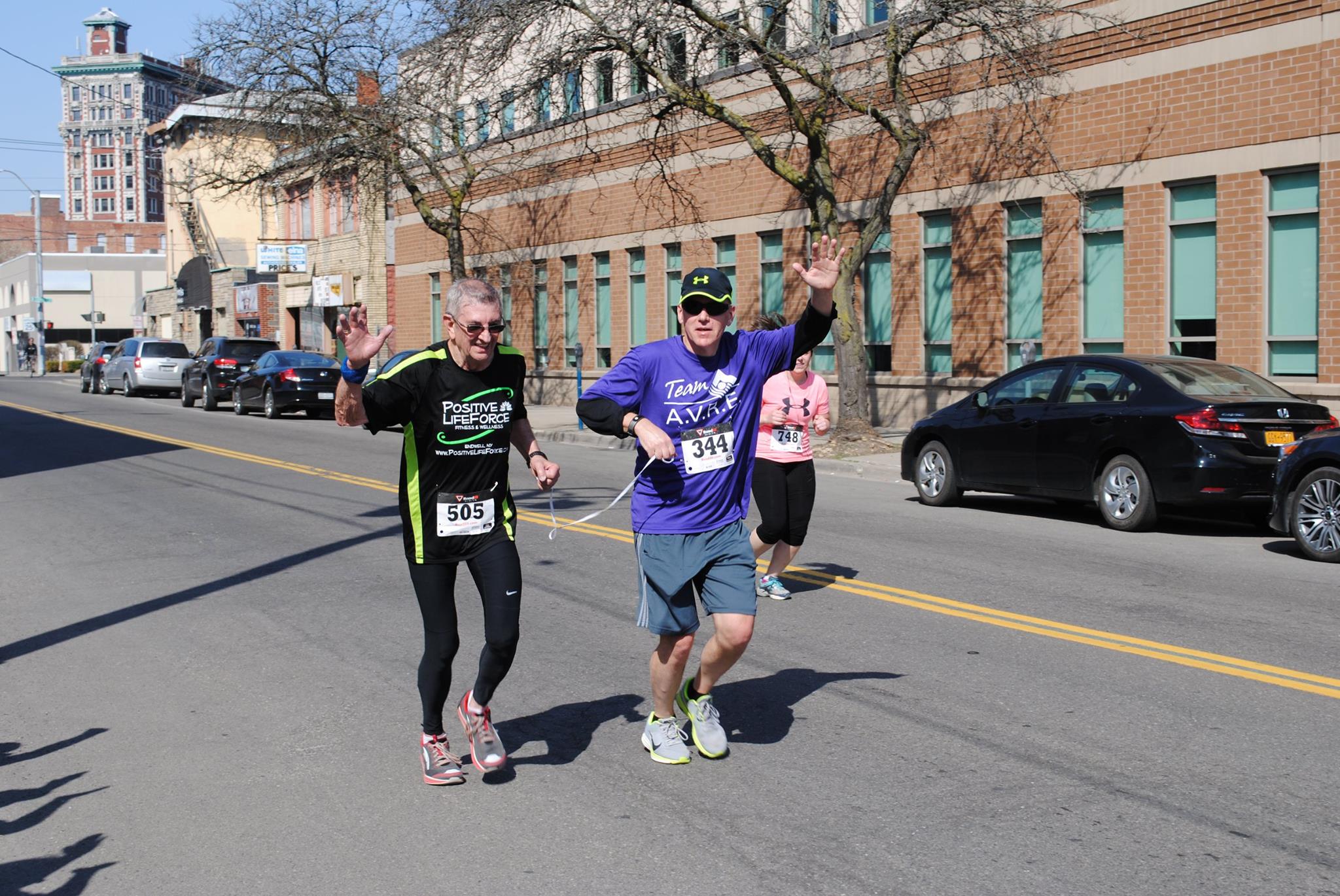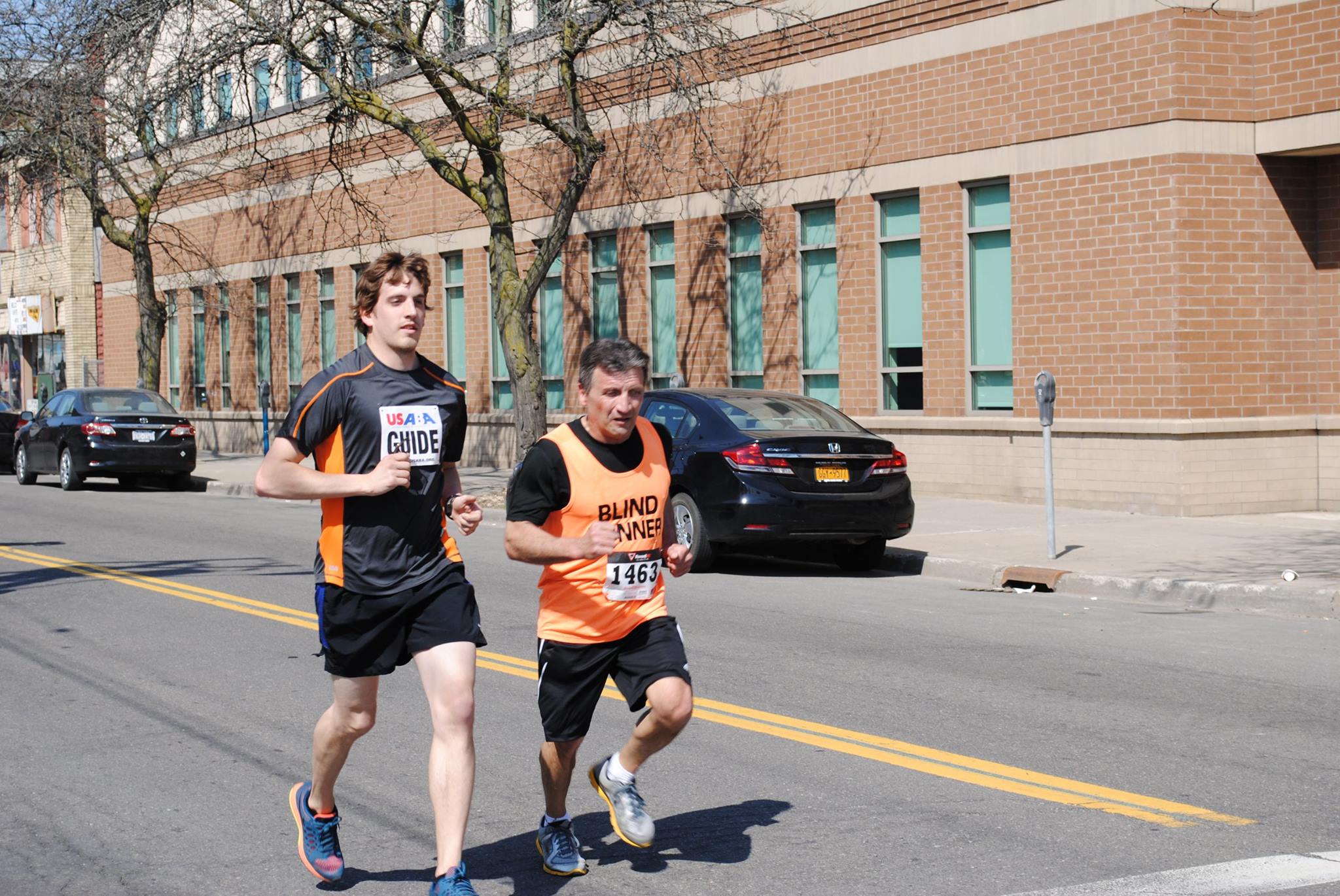 NIB's 2015 Public Policy Forum
NIB's 2015 Public Policy Forum was a great event! The Forum provides industry agencies the opportunity to pound the pavement on Capitol Hill to advocate for the AbilityOne Program and how it benefits our agencies and employees locally. AVRE President/CEO, Ken Fernald, joined Jenn Small and Steve Comency to meet with AbilityOne Champion, Representative Richard Hanna, in his Washington office. We also joined forces with colleagues from Buffalo, Albany, and Brooklyn to meet with Morgan Brand from Senator Schumer's office – another AbilityOne Champion. The Forum also provides opportunities to network with staff from sister agencies from around the country. Together, we send a clear message to our elected officials that the AbilityOne Program works! We are firm believers in the philosophy that if you reach out to your elected officials, they will listen!